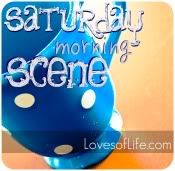 Enter my home at your own risk.....
I'm linking up with Katie over at
Loves of Life
again to showcase what I'm doing this fine Saturday morning.
CLEANING!!
Usually I wouldn't want to post pics of my horribly cluttered house, but this is what I'm currently tackling and we're all about putting it all on the table around here. (literally, can you even see my table?!?)
Yikes! This is what happened when mommy works full time, often late, and is gone two weekends in a row! Hopefully I'll be able to find my couch by Monday!
Happy Weekend Ya'll!
(haha, I just said ya'll)