Today I'm linking up with B.U.B & The Vintage Apple for a little game we like to call.....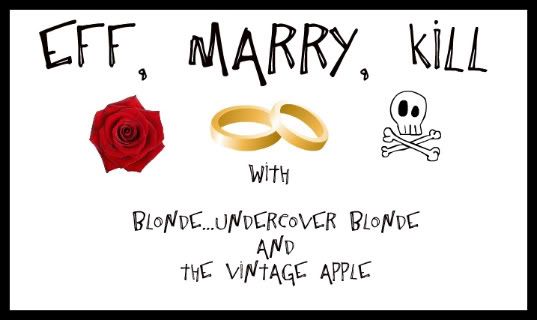 This week I've picked some of the leading men from one of my favorite guilty pleasure shows:
EFF: Toby. Come on. Look at those abs. Plus he has a sensitive side so he probably likes to cuddle.
I might make him cut his hair though, NOT diggin' the do this season.
Marry: Mr. Fitz. And not because he's probably the only one who's legally old enough to marry. Then again, he seems to prefer the underage chicks, so I may not be his type.
Kill: Holden. He's creepy. And I'm still not convinced that whole fighting thing was his only secret. Pretty sure he bats for the other team. Which is cool, but unlike Aria, I don't want to be his beard.
Now go link up with your Eff.Marry.Kill trio!
Happy Thursday!